Ebb & Flow
I was invited by Karen Townshend to create a new show of 'plein air' paintings in her gallery at Kestle Barton situated in an ancient Cornish farmstead above the Helford River. I had previously exhibited portraits of trees in the woods and paths around Frenchman's Creek at Kestle in 2010. This new exhibition would run from 15 July to 3 September 2017. We discussed painting the creeks and coves of the Helford River recording the rivers tidal waters and banks. Karen suggested using a small boat called 'Dopey' as a floating platform for the work.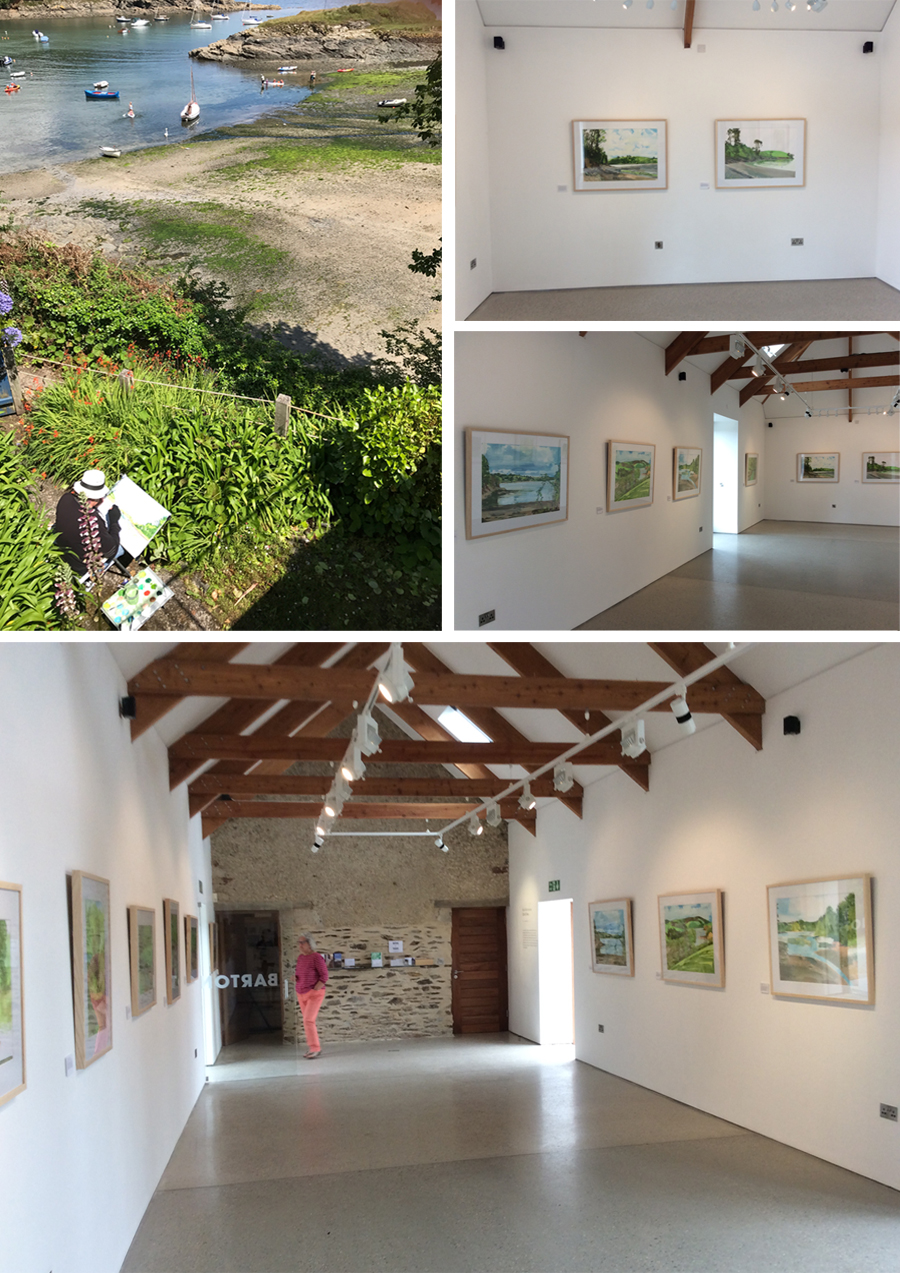 My residency at Kestle began on 13 May 2017. The plan was to research locations and create 17 x A1 paintings on site within a month. It was like sprinting out of the blocks from a standing start in order to produce all the paintings needed for framing by the beginning of June. The floating platform was an attractive notion which failed in practice. Seasickness drove me back to the shore to create an alternative perspective on tidal action from firmer ground.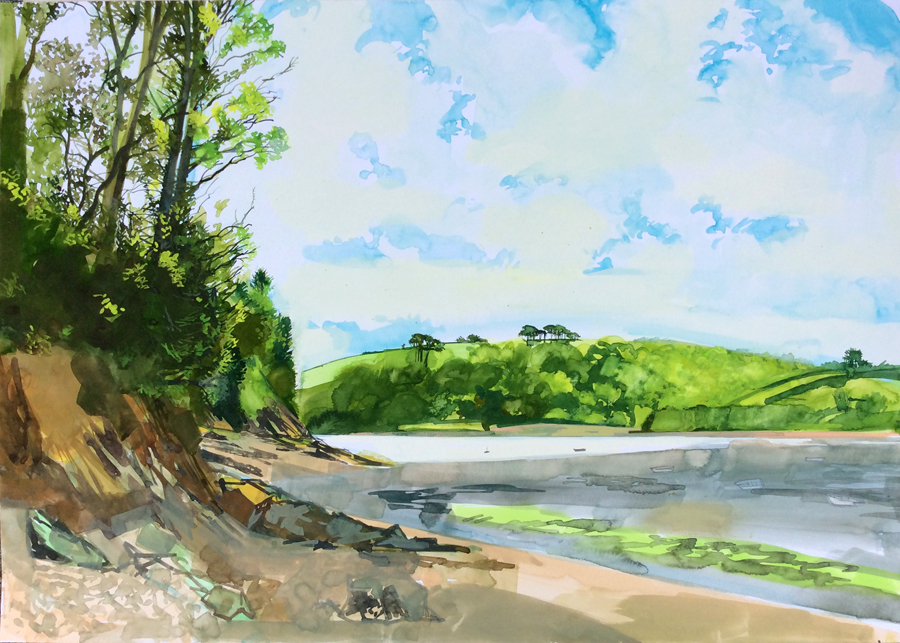 All the paintings in gouache would be started and finished on-site. John Singer Sargent refers to the experience of watercolour painting as 'managing an emergency'. There is something urgent about an emerging image drawn directly from nature, something unpredictable regardless of the material you use. Plein air painting is live performance in the moment with little rehearsal other than practice. It is something shared with improvised theatre, the ad-lib standup experience or extemporised jazz.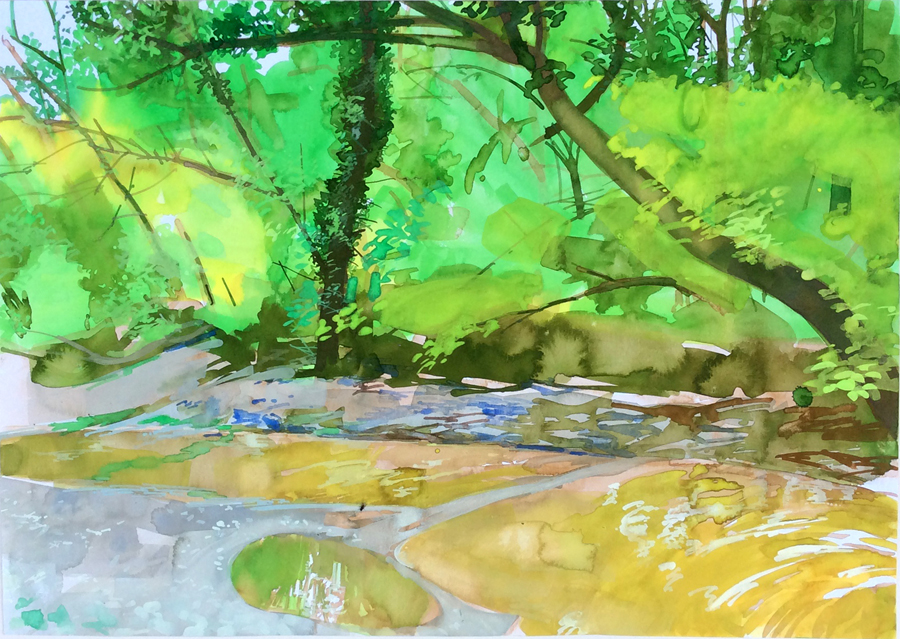 When I first set out to paint I don't really see. I make a half-formed decision as to what will be the subject for the painting though I am never sure it will make a painting. Staring at nature for four or so hours as I paint creates a forensic eye and intensifies perception. it is only when I get up to leave and look around that everything looks alive to paint, everything a subject for painting. I see things for the first time, the sensation last only as long as the time I spend looking at it, it cannot be repeated, if I leave and return the next day it is gone, I'm not sure I understand what this is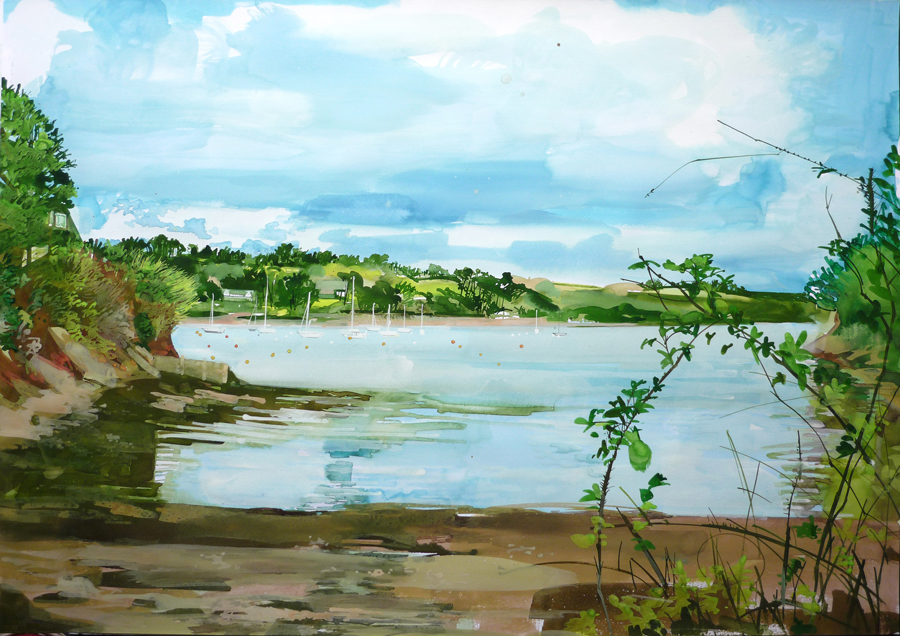 I have also discovered it is impossible to paint 'live' from nature whilst looking through a window. the glass creates a strange detached response, framing, flattening and filtering out physical elements that contribute profoundly to on-site painting. Sound, weather, light, space and smell all contribute to the constructed image.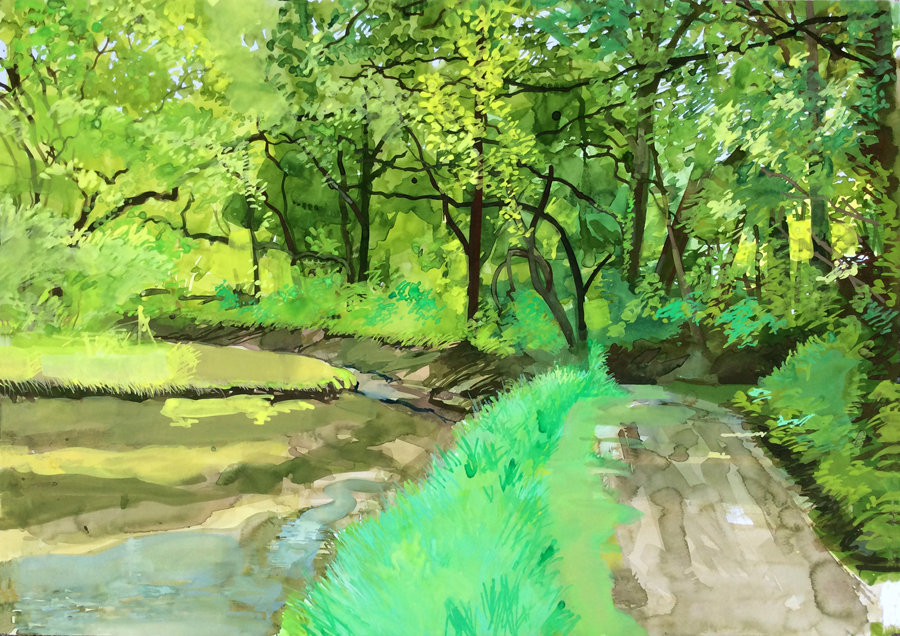 A small number of workshops were organised during my residency at Kestle Barton including a couple of 'Walking Drawing' workshops which reflected the nature of my residency and worked well with the group. It was a fast paced drawing class using A3 sketchbooks and black and white drawing material. An organised walk through the landscape was timed in such a way as to encourage intense observational drawing with emphasis on a high level of production. The project concentrated on process without distraction providing a platform for descriptive mark making that uses risk and chance to create surprises and test ideas of successful drawing. The walk proceeded at a pace which I would decide, at random intervals I would determine the subject, define an attitude as well as varied timings as the group moved from subject to subject. The idea was to fill a sketchbook to be reviewed at the end of the session.