Pen Drawings
Folk Tales
These images use everyday activities to comment on behaviour, customs and beliefs. Some moments may be magical or sometimes ordinary, light may triumph over darkness and events may or may not be real.
I draw about making and its contribution to ideas using a ballpoint pen to apply multiple layers of cross hatched strokes to construct areas of dense black. Sometimes the surface density is velvet in its blackness, sometimes the drawn edge has the look of worn linen.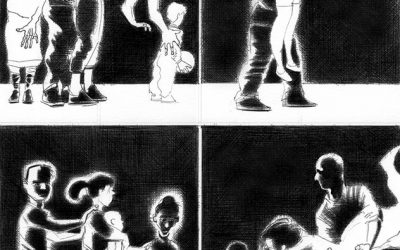 Ballpoint pen 420mm x 297mm Behind the childs first steps, Promoting ambitious reach, Encouraging self balance and supporting goals, A sense of belonging.